ESF wants to raise awareness about the terrible toll emergency service work can take on the people - paid and volunteer - who are always ready to protect us. We hope Tony's Trek – one step at a time, a solo walk of 1440km will do that.
My volunteer role as ESF Chair is a profoundly personal one as I have been in the sector for almost forty years. In that time I've seen many of my colleagues suffer from trauma due to their role in emergency services/management. This trauma can often result in mental health injury and have lasting impacts throughout their career and retirement.
In supporting ESF's work in improving mental health outcomes for Victoria's 125,000 emergency workers, both paid and volunteer, in frontline and support roles, I have decided to commit to a solo ultra-distance walk to raise awareness of the work we do. We need to acknowledge the urgency of supporting those who support us.
On the 30th of September 2022, I will commence my journey in East Melbourne at the State Control Centre, and over the 50 days, I'll cover nearly 1440 kms.
My route has been specifically chosen to cover much of the area where the Victorian Black Summer Bushfires occurred. I hope this will acknowledge the horrible mental health impacts those fires had and continue to have on emergency workers, along with the community members themselves of these areas.
For me, it will be one step at a time to achieve this goal and personal physical feat. Recovery from mental health injury is also a personal journey that involves taking one step at a time.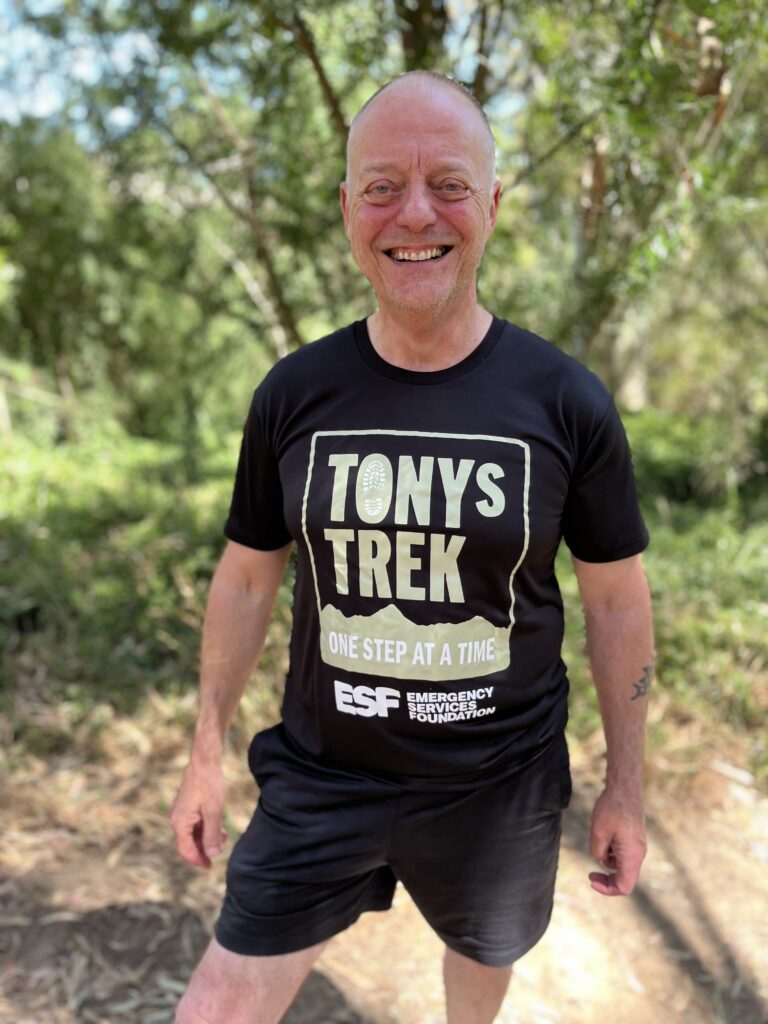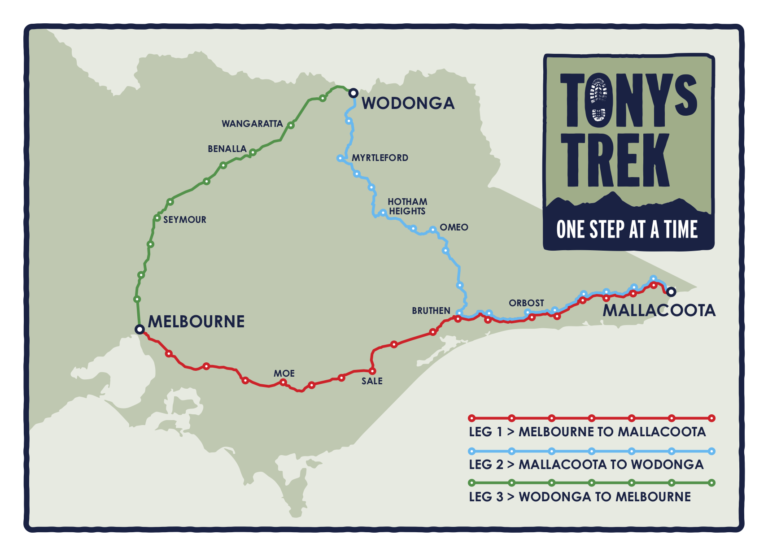 What we're fundraising for: ESF's evidence informed prevention programs.
Funds raised from Tony's Trek will be used by ESF to deliver two pioneering evidence informed prevention focused initiatives to benefit emergency workers no matter whether they are at the frontline or in important support roles before, during or after emergencies.
A lived experience program which will see ESF train mental health ambassadors from across the sector to safely share their stories of mental health injury and recovery. This will help to reduce the mental health stigma which pervades the sector and inhibits early help seeking when the chance of recovery is greatest. We need $425,000 to establish the Residential Wellbeing Program, run six pilot groups and evaluate the outcomes
A pilot residential wellbeing program to bring together emergency workers who are mentally struggling, to help them process trauma and develop resilience skills supported by experts who completely understand their experiences. This will help them effectively self-manage to reduce the cumulative effect of trauma and the risk of developing serious mental health injury. We need $200,000 to establish the Lived Experience Program and document 15 stories.
ESF is at the frontline of mental health, making sure we have the best possible strategies to help prevent people from our sector being harmed by the work they must do. With our focus on prevention and early intervention, ESF works collaboratively with agencies as it seeks to get ahead of the mental harm and injury threat that currently pervades the sector – so everyone benefits.
Starting point – State Control Centre 8 Nicholson Street East Melbourne
30 September – Dandenong
1 October  – Nar Nar Goon
2 October  – Warragul
3 October  – Moe
4 October  – Traralgon
5 October  – Rosedale
6 October  – Sale
7 October  – Sale
8 October  – Providence Ponds rest area
9 October  – Bairnsdale
10 October  – Bruthen
11 October  – Nowa Nowa
12 October  – Orbost
13 October  – Orbost
14 October  – Cabbage Tree Creek
15 October  – Bright Light Saddle rest area
16 October  – Cann River
17 October  – rest area near Upper Wingan Road
18 October  – Genoa
19 October  – Mallacoota
20 October  – Mallacoota
21 October  – Genoa
22 October  – rest area near Upper Wingan Road
23 October  – Cann River
24 October  – Bright Light Saddle rest area
25 October  – Cabbage Tree Creek
26 October  – Orbost
27 October  – Orbost
28 October  – Nowa Nowa
29 October  – Bruthen
30 October  – Tambo River campsite
31 October  – Ensay
1 November  – Swifts Creek
2 November  – Omeo
3 November  – Omeo
4 November  – Cobungra
5 November  – Hotham Heights
6 November  – St Bernard Hospice Chain Bay parking area
7 November  – Smoko campground
8 November  – Porepunkah
9 November  – Myrtleford
10 November  – Yackandandah
11 November  – Wodonga
12 November  – Wodonga
13 November  – Chiltern
14 November  – Wangaratta
15 November  – Glenrowan
16 November  – Benalla
17 November  – Violet Town
18 November  – Euroa
19 November  – Euroa
20 November  – Avenel
21 November  – Seymour
22 November  – Broadford
23 November  – Wallan
24 November  – Craigieburn
25 November – 8 Nicholson Street East Melbourne