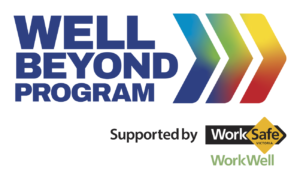 Well Beyond
A strategic priority for the Emergency Services Foundation is healthy transitions. In the first instance ESF is focusing on people in transition to retirement.
This program of work is called Well Beyond.
A study of over 21,000 police and emergency responders, undertaken by Beyond Blue (2018) found that 85% of retirees had experienced a distressing work-related event that had deeply affected them and 23% were identified as having probable PTSD, compared to an estimated 4.4% in adults in Australia. Despite their lower resilience, there was very little in the way of support found to be available at this point in the career.
ESF's Well Beyond program is designed to address this gap. It will guide the sector with a pioneering, evidence informed and systemic approach to supporting people to holistically prepare for and transition to retirement.
Evidence informed
Older workers have been identified by WorkSafe as a vulnerable cohort. ESF has worked with the WorkSafe funded Learning Network to develop Well Beyond. It is informed by five important studies to build understanding of the issues and needs of retired and retiring emergency service workers:
i. The practices and principles of peer coaching
Dr Eva Kyndt from Swinburne University of Technology conducted a literature review to identify scientific insights into the design and delivery of a peer coaching training program. It reviewed national and international research to investigate the characteristics of effective peer coaches; training principles associated with effectiveness; the learning needs of peer coaches; coaching techniques linked to coachees flourishing and what boundary conditions are needed for peer coaching program success and sustainability. This study was one task in Swinburne's remit to help ESF co-design and evaluate a training program to train prospective and recent retirees as peer coaches.
Their final report can be accessed here
ii. Retiree experience: a qualitative study (2021)
A qualitative study to better understand the challenges people face when they retire from a career in the emergency services was conducted by Right Management. Based on their experience as the contracted Commonwealth Provider for transition support for the ADF, they undertook 30 semi-structured interviews in September and October 2021 emergency responders who have retired in the last two years to learn of the challenges they faced in their retirement journey.
Their final report can be accessed here
iii. Literature review: Leaving service and retiring well
Dr Sarah Hewat (Learning Network project manager) conducted desk research on mental health and wellbeing challenges and programming solutions for retiring and retired emergency responders. This report provided key findings and insights about issues and challenges of retirement for emergency responders from Australian and international literature. It also provided a scan of best practices resources and programs for retirement and transitions and analysed the elements of best practice retirement and transition support. 
This literature review can be accessed here:
iv. Volunteer retirement experience (2020)
A study undertaken for the ESF by students from Worcester Polytech Institute (WPI) explored how emergency service volunteers could be better supported as they transition to retirement. The students spoke with agency managers, experts, and older volunteers from across the sector and concluded that there is much room for improvement in how emergency service volunteers are supported in their transition to retirement. Five recommendations were made.
The final report can be accessed here
v. Retirement in the Victorian Emergency Services Sector (2019)
Four students from Worcester Polytechnic Institute (WPI) in Massachusetts (USA) assessed the current landscape of retirement support, identified the needs and concerns of retirees based on interviews with personnel from ten emergency management organisations, and formulated recommendations for a holistic transition to retirement program for Victorian emergency service workers.
The final report can be accessed here
Program components
The Well Beyond program is a pioneering leading practice approach to helping emergency service workers transition from service in a way that helps them flourish in retirement.
It takes a systemic approach to addressing organisational factors that will preserve and promote the mental health and wellbeing of retiring workers in addition to consideration of individual needs.
Financial preparedness has been the primary focus of preparedness, whereas transition is a complex and potentially disruptive experience requiring planning and support in a range of social and psychological dimensions. Well Beyond takes a more holistic approach to wellbeing and will deal with a range of wellbeing issues that emergency responders often face when they leave service, including an accumulation of unresolved trauma and the loss of camaraderie, identity and purpose.
Well Beyond has two initial program components which are aligned. These have been informed by extensive evidence gathering and analysis, and co-design workshops with end-users, experts, and other stakeholders.
The program will initially work with paid workers transitioning to retirement voluntarily and may later be extended to volunteers and other kinds of transitions, including due to ill health.
Component one – A systems-framework
At the suggestion of the Learning Network a systems framework has been developed to guide emergency service and management organisations to adopt a systemic approach to preparing their personnel for transition to retirement. The framework takes a career span perspective identifying actions required to meet the needs of individuals, families, managers, organisations, and the sector. The framework will come with a resource pack for agencies to use as they adapt the framework to their organisational context.
This framework was informed by two co-design workshops with retirees, people near retirement, subject matter experts and agency program managers, and other stakeholders including retired peer support co-ordinators and agency associations, and superannuation representatives. An organisational psychologist from Transitioning Well facilitated these workshops and developed a draft framework. This was which was subsequently enhanced informed by the qualitative research and literature review.
The framework is central to Well Beyond as a strategy and is intended to guide the sector in providing a consistent and systemic leading practice approach to support people's wellbeing as they prepare to leave the sector.
Component two – Coaching / mentoring
The idea of coaching for retirees in the emergency services sector was initially recommended in two preliminary studies undertaken by ESF in 2018 and 2020.
The approach will be to train sector retirees as peer coaches with a holistic focus on flourishing in retirement. This will leverage the strong social network in the sector and ESFs research undertaken by Phoenix Australia which points to a strong preference for education based on lived experience.  By departing from the model of paying consultant retirement coaches, this 'train the trainer' model will offer retirement transition support for agencies that is economically sustainable.  
The coaches will undergo a selection and training process to learn how to help others approaching retirement develop an individual action plan. This plan will focus on the holistic wellbeing needs of the individual and their family and aims to promote flourishing.
In addition to being cost effective, connecting with, and being supported by retired peers is expected to have the additional benefits of:
providing retiree coaches a sense of purpose and camaraderie at a time when feelings of loss can be acute
keeping a line of sight on individuals who are struggling with the transition and providing necessary support
breaking down stigma related to accumulated trauma and associated mental health issues
It is proposed to pilot Well Beyond peer coaching in two agencies.
Swinburne University of Technology have been contracted to design, implement, and evaluate this pilot. Stage one (literature study of peer coaching) and two (co-design workshop) are complete.  Stage three (designing the training program), four (piloting) and five (evaluation) are on track for completion by August 2022.