Well Beyond
Well Beyond is a peer-based coaching program that supports older emergency service workers transition to retirement. It is a pioneering, innovative and evidence based approach to support the unique needs of older workers and volunteers so they can flourish in retirement.
A coach is not a subject matter expert, a mentor, or a counsellor. They have developed the skills to create a safe space to enable the coachee to reflect and explore key areas of concern. It is a gift to be able to have a conversation with someone genuinely interested in how you are feeling about what's ahead in retirement.
This program was piloted with financial support by WorkSafe WorkWell between June 2021-August 2022.  It was piloted within AV in 2023, and there are plans for it to be offered to police members by The Police Veterans in 2024.
Rationale
Two studies conducted by ESF identifies a gap in support options that agencies offer their older workers for transitioning to retirement in a way that  promotes mental health and wellbeing.  In general, financial preparedness has been the primary focus of retirement, whereas transitioning out of a career in the emergency services is a complex and potentially disruptive experience in a range of social and psychological dimensions.
Well Beyond takes a holistic approach to support retirement preparation by supporting workers with a range of wellbeing issues that can emerge after they leave service as a result of accumulated trauma and the loss of camaraderie, identity and purpose.  Coaches have learned how to help workers who plan to retire develop a individual plan in a range of wellbeing areas to promote them to flourish in retirement.
Program components
Well Beyond has two program components: one systems and one individual in focus. Together they address the psychosocial hazards that preserve and promote the mental health and wellbeing of retiring workers.
Both components were developed and informed by extensive evidence gathering and analysis, and co-design workshops with end-users, experts, and other stakeholders including the Learning Network.
Component one is a systems approach to improving outcomes in retirement adjustment. Component two is the peer based coaching to help individuals plan and prepare for retirement.
Component one – Transition to Retirement: an organisational systems framework
ESF has developed a framework for human resources teams to plan for progressing actions at different stages of an employee's career to support retirement in good health.  This framework takes an organisational and whole-of-career perspective to suggest practical ideas that support wellbeing needs along a range of dimensions.
As well as being holistic and action-oriented, the framework includes links to tools, guides, and samples and will be available as a basic Word document for agencies to brand and adapt to their agency context. 
Component two – Peer-based transition coaching
The idea of coaching for retirees in the emergency services sector was initially recommended in two preliminary studies undertaken by ESF in 2018 and 2020.  Two pilots were undertaken in 2021 and 2022. The formal evaluation by Swinburne University found that training sector retirees as peer coaches by providing skills and confidence was successful in helping older workers reflect on and plan for retirement.
The evaluation found the pilot:
leveraged the sense of camaraderie and impulse to help other, which is strong in the emergency service sector. 

had the benefit of learning from those with lived experience. 

keeping a line of sight on individuals who are struggling with the transition and providing necessary support
breaking down stigma related to accumulated trauma and associated mental health issues
giving  retiree coaches a sense of purpose, meaning, camaraderie and connection to their agency or the sector.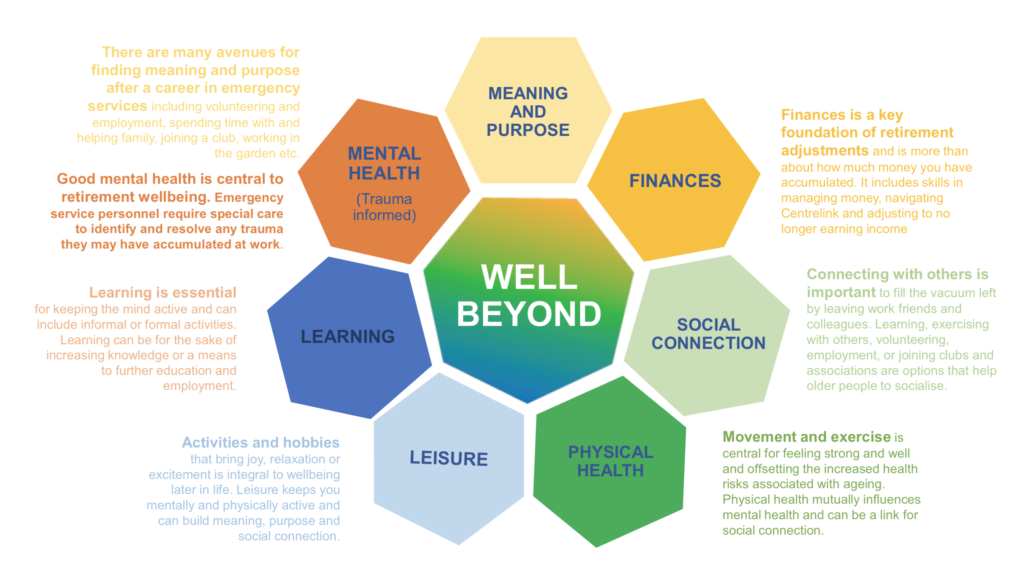 The standard of training was excellent in its conciseness, expertise and clarity. It translated easily into practice.
A great program which helps to understand that retirement is something to embrace not be frightened of. I wish it had been in place for me.
I wish the program had been available to me when I was approaching retirement. My feelings were like a coin – on one side, I was excited by the prospect of retirement. The other side of the coin terrified me - I am about to retire! What am I going to do? The course gave me the tools and confidence to be a coach.
Participating in the coaching program gave me an insight into a side of myself I did not know existed. Sub consciously I knew but I was not able to articulate and put into practice acquired life skills and experiences. It has brought me joy and purposefulness. I feel I have found a volunteer job which I can truly embrace and promote. I am excited, motivated and empowered. I look forward to coaching a lot in the future.