After the 1983 Ash Wednesday bushfires a public appeal was launched to provide relief to Emergency Service Workers affected by this tragic event. With the agreement of the originators of the appeal the residual funds were used to form a charitable trust for the benefit of Emergency Service Workers. In 1987 the Emergency Services Foundation was established and in line with the origins of the Trust it was determined that provisions of the Trust Deed be directed towards:
the relief and assistance to any Victorian emergency service worker and their families who suffer hardship as a result of the worker engaged in the operations of activities of an emergency service; and
the funding of research and study by properly qualified persons aimed at the improvement of the methods of relief and assistance set out in (1) or the lessening of hazards experienced by Victorian emergency service workers in their line of duty.
Between 1987 and 2019 ESF provided financial assistance to the families of people deceased in the line of duty.
In 2013, we celebrated 25 years of supporting emergency services workers. Here is a video commemorating our history.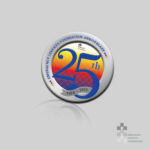 In 2018 it was determined that due to the changed operating environment ESF would shift its focus away from the provision of financial assistance to the complex sector wide issue of mental health and wellbeing.  ESF subsequently underwent a constitutional change in 2019 which resulted in a new governance structure and strategic plan.