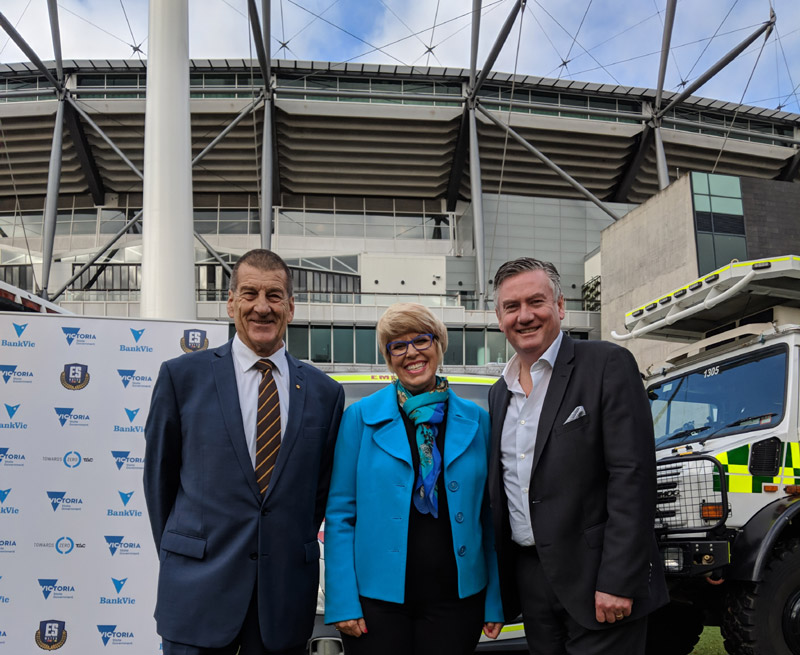 The ESF is excited to be working with Hawthorn Football Club to honour the work of Victoria's Emergency Services personnel, with the club today launching the inaugural Emergency Services Match to be played between the Hawks and the Pies.
The two clubs will face off at the MCG in Round 16 in recognition and celebration of the work of Emergency Services workers from across the state.
Partnering with Emergency Management Victoria, Victoria Police, Ambulance Victoria, Metropolitan Fire Brigade, Country Fire Authority, Life Saving Victoria, Forest Fire Management, Victorian State Emergency Service and ESTA (Triple 000), the Emergency Services Match will use the power of football to shine a light on the men and women who do extraordinary things, risking their lives every day to protect and support our communities.
The game will provide an opportunity to raise much needed funds for the Emergency Services Foundation, an organisation established in 1983 after the Ash Wednesday fires, which supports emergency services workers in times of need and is changing with the times to refocus on mental health and wellbeing.
More than half of all employees and volunteers in Emergency Services are likely to experience a traumatic event that will deeply affect them during their career.
The Emergency Services Match will raise awareness of the mental health issues faced by the people doing this vital work in our communities.
Club President Jeff Kennett launched the match today at the MCG, highlighting the importance of acknowledging the incredible work of all Victoria's Emergency Services.
"Our Emergency Services men and women don their uniforms every day with little fanfare, but with an incredible amount at stake, and the Emergency Services Match is our opportunity to thank them for this work," he said.
"Football provides us with a powerful platform to celebrate the contribution these brave individuals make to our community and we are honoured to be able to play in a game that will do exactly this."
Ensuring this game became a part of the football calendar would not have been possible without cooperation and support of Collingwood Football Club and BankVic, with BankVic coming onboard as the official presenting partner of the match.
In addition to BankVic, both the Victorian Government and TAC have also joined as proud partners of the game.
Hawthorn and Collingwood will play in the inaugural Emergency Services Match on Friday 5 July, 7.50pm at the MCG.
Tickets for the match are now available via Ticketek.