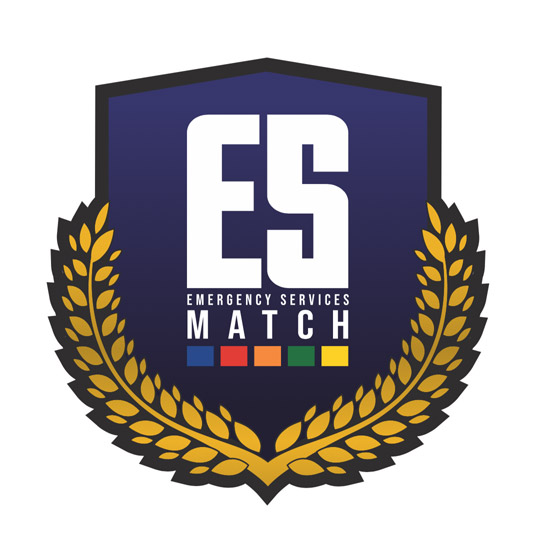 AFL Emergency Services Match
Hawthorn V Collingwood @ MCG – July 5th 2019
Celebrating the contribution made by Victoria's emergency services and to raise awareness of the mental health issues faced by people in the sector.
DONATE NOW
to develop and expand mental health and wellbeing programs
in the Victorian Emergency Services sector
An emergency services match at the MCG on 5 July Hawthorn V Collingwood will celebrate the contribution made by Victoria's emergency services and raise awareness of the mental health issues faced by people in the sector.
Hawthorn FC offer special
Emergency Services Membership that includes
entry to the big ESF match.
Every day, our emergency service workers, both paid and volunteer, respond to over 7000 calls for help from 000 here in Victoria.
They see, and do things, that many of us find hard to imagine – and so often they respond with their heart in their mouth in anticipation of what they will be faced with when they arrive at the scene – especially when they are working close to home in their own small communities and see children and others harmed reminding them of their own families at home.
In recent years there has been a growing awareness of the impact that this work has on people, and how exposure to danger and trauma impacts their mental health and wellbeing.
A national survey conducted by Beyond Blue reflects the collective voices of the 21,000 individuals who shared their information to provide ground breaking evidence into the mental health and well-being of emergency service personnel.
The research found:
One in three employees experience high or very high psychological distress compared to one in eight Australian adults
One in three volunteers report being diagnosed with a mental health condition in their life compared to one in five Australian adults
Over half employees surveyed experienced a traumatic event in the course of their work that deeply affected them
Employees who have worked more than ten years in police and emergency services are almost twice as likely to experience psychological distress and six times more likely to have symptoms of PTSD compared to those with less than two years' service
Employees and volunteers report suicidal thoughts over two times more often than adults in the general population and are three times more likely to have a suicide plan
These results reveal a workforce that is deeply impacted, both by the nature of the work that they do, and the pressures of the environments in which they work.
These results compel action.
They require a dedicated and collective effort to ensure that we strengthen our approach to protecting those who protect us – to make a real difference to people's lives.
The Emergency Services Foundation is driving that collective effort to develop a best practice approach to care for Victoria's emergency services personnel because we rely on those people to be mentally well to effectively support the community.
Funds raised from the the Stadium Stomp on 30 June 2019 and the AFL Emergency Services Match on 5 July 2019 will be used to develop and expand mental health and wellbeing programs to benefit paid and volunteer workers and their families right across the sector.
For example, the Beyond Blue research found that self-stigma appears to be alive and well and recommended action in this area. While individuals have a positive regard for – and are supportive of – colleagues experiencing mental health conditions, self-stigma – a fear of what others may think or an inability to talk openly about personal feelings and circumstances is rife. Self-stigma gets in the way of people seeking support and is associated with poorer mental health outcomes. We need to reduce the stigma and make it okay for people to seek help early – well before their mental health problems develop into something more serious, debilitating and potentially life threatening.
Please help the Foundation make a difference to the mental health and wellbeing of people who respond when our community calls for help.
The full Answering the Call report on the survey findings and additional information can be downloaded from www.beyondblue.org.au/pesresearch
---
MCG Stadium Stomp – Sunday 30th June 2019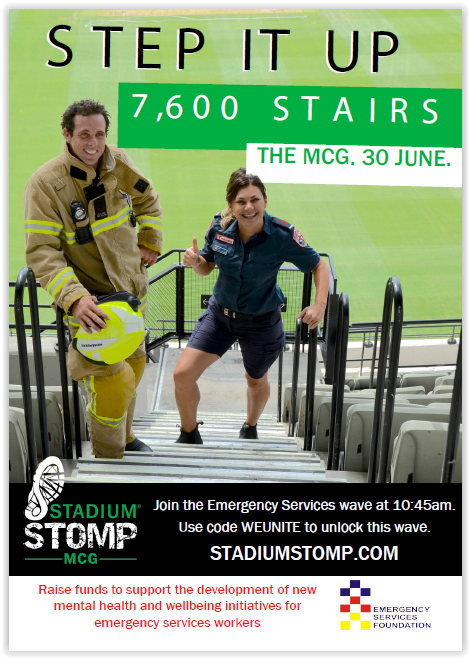 Stadium Stomp is a unique fitness challenge where participants are sent on a course to climb up and down 7500 stairs at the MCG on Sunday 30 June 2019.
Team Emergency Services will consist of 160 people representing agencies across the sector and will head off together at 10.45am.
Participants will be kept motivated by a cracking playlist and there are plenty of seats if you need a rest!
The event is open to all levels of fitness. It is damn tough at a pace, scenic at a stroll but best of all you won't be timed so you can do it at whatever pace you like.
Register now to join Team Emergency Services in the 2019 MCG Stadium Stomp, have some fun and help raise funds so the Emergency Services Foundation can develop and expand mental health and wellbeing programs to benefit paid and volunteer workers across the sector.
There will be a generous prize for the person who raises the most funds.
Places in Team Emergency Services are limited. Important information to help you register.
Visit

www.stadiumstomp.com/melbourne

and click Register Now

Select the 10.45am wave and enter the password WEUNITE (case sensitive)

Complete the registration form and be sure to:
Select 'Fundraise for another Charity'

Choose 'Join a team' and select Team Emergency Services from the list 
Once registered, you will receive a confirmation email which contains a link to set up a fundraising page with GoFundraise. Follow the process and select ESF as your nominated charity.
We look forward to having you join ESF as part of Team Emergency Services on 30 June.  
Queries related to this event please email smackenzie@esf.com.au or rainparamedic@gmail.com