Fundraising
On behalf of the Emergency Services Foundation we would like to thank you for your interest to support our Foundation through a fundraising activity.
If you choose to fundraise for the Foundation you will help improve the mental health and wellbeing of those who help us as Victoria's emergency services personnel. The funds you raise will play a vital role in advancing how we prevent, promote and address mental health across the sector.
Prior to fundraising it is essential that you:
Read the Emergency Services Foundation's Fundraising Guidelines which outline your obligations in fundraising for us.
Complete a Fundraising Activity Application Form which provides us with details about what your fundraising plans.
It is important to note that fundraising legislation requires you to wait until this application is approved by the Emergency Services Foundation prior to publicising, fundraising or holding your planned activity. Please allow up to five working days to hear back from us about your application.
If you have any questions about submitting your application, please email fundraising@esf.com.au
How are fundraising applications assessed?
The Emergency Services Foundation will approve applications where:
Recent fundraising stars

ESF & Victoria Police & Emergency Services Games join forces.
ESF is proud to be partnering with the 2021 Victoria Police & Emergency Services Games to promote physical and mental health wellbeing across the sector. Find out more about the games here.
Melbourne Firefighters Stair Climb 2019
"Mental health issues like PTSI are at a crisis point in the emergency services sector. Too many members of the emergency services 'family' are suffering as a direct result of their exposure to trauma while serving our community.  Raising funds for the ESF means that it can be addressed as a sector wide approach, because let's face, it we are all in this together."
Steve Axup (Left)
MFB Firefighter



2019 MCG Stadium Stomp
"At our patient's very worst day, we are there for them, this urge to help has been with us all our lives. We know the risks of our jobs as first responders, exposure to trauma is something we try to prepare for, with the help of the ESF we can make stronger connections to the care we need in order to keep doing what we love, help our patients. That's why I fundraise for the ESF."
Rain Histen
Ambulance Victoria Paramedic

Side by Side Kokoda Trek 2020
"I am tired of seeing those emails or posts, that another one my friends or colleagues has succumbed to their mental health issues. We need to break the stigma attached to mental health across the emergency service sector. Its ok not to be ok! We see and deal with confronting scenes that have an impact on us, one way or another. Just because we help people daily, doesn't mean that we are immune from needing that help ourselves.  Through the Side by Side Kokoda Trek, I want to help raise funds – one million dollars if I can – to improve mental health support services for ALL of Victoria's emergency services, both operational and support."
Adam Broad
MFB Firefighter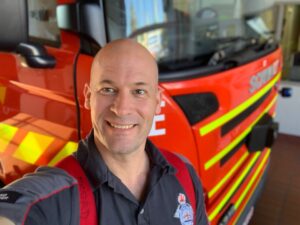 Emergency Service Minifigures
"At the end of the day, emergency service workers are normal too…. how we sleep… how we laugh… how we cry is all normal.  What we sometimes see isn't normal…that's where we differ and that's where we sometimes need help to keep on track.  Organisations like the Emergency Services Foundation work help to keep us on track.
The love of Lego is normal too. If we can raise funds for ESF by selling Emergency Service minifigures that fit with the world's best known building block brands, they can help our colleagues across the sector. It will be a win for us all."
Jo Algie
Ambulance Victoria Paramedic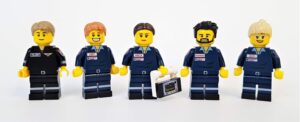 Gift in your Will
Leave a legacy of protection and support for the community
Leaving a gift in your Will allows you to consider the causes and organisations that have had a special meaning to you during your lifetime.  A gift in your Will to the Emergency Services Foundation supports all of our emergency personnel and helps protect those that protect us.
Your gift looks after the community by driving the collaboration of learnings and support to protect the mental health of our first responders and so they ask and get the support they need, to have the best chance for mental resilience, protection and recovery.
Leaving a gift in your Will requires careful consideration, firstly provide for your family and friend and then we would be honoured if you would consider leaving a gift in your Will to the Emergency Services Foundation.
Types of Gifts
A gift in your Will can take many forms
Residuary – the remainder of your estate after specific gifts have been disbursed.
Percentage – A percentage of either residue or the entire estate
Pecuniary – A specific gift of cash
A specific Asset – Real estate shares or other particular items of value.
Suggested Wording
The wording of your Will is important and we your solicitor will help you word your bequest in a way that ensures that your Executors are able to effectively carry out your wishes.  To assist you and your solicitor we have provided an example of appropriate wording below.
"I give to Emergency Services Foundation (ABN 39 488 345 398) in the State of Victoria, a _____% share of my estate.  The receipt of an authorised office of Emergency Services Foundation shall be an absolute discharge to my executors"
"I give to Emergency Services Foundation (ABN 39 488 345 398) in the state of Victoria, the residue of my estate. The receipt of an authorised officer of Emergency Services Foundation shall be an absolute discharge to my executors."
This information and wording is provided as a general guide only. It is not provided as legal advice. You are advised to obtain your own legal advice prior to making a Will to ensure that your specific circumstances are taken into account.
Please let us know
If you are considering leaving a gift in your Will, please let us know. We appreciate knowing of your kind intentions so we can thank you appropriately for your generosity.
If you would like to support the Emergency Service Foundation with a donation, please visit the donate link above. If you would like to support the ESF in another way, please do not hesitate it get in contact with us to discuss options.