The Emergency Services Foundation Scholarship Scheme
The purpose of the ESF Scholarship Scheme, is to enable fellowships and grants to be made to members of the Victorian Emergency Services to assist them to undertake advanced studies in Australia or overseas. This might be by participating in formal courses of education or training or by attachment for study or observation with other agencies or educational or training institutions to advance their educational and professional standards.
Scholarship awardees have used their scholarship to travel to the United States, Peru, the United Kingdom, Italy, and more. Topics of research span a wide range of areas, from counter-terrorism to earthquake preparedness and response to flash flood warning systems and community education. The ESF Scholarship scheme provides a valuable opportunity for self-enrichment and improvement of emergency response and management.
Emergency Services Agency heads need to fully endorse recommended applicants for scholarships, confirming the benefits that would flow to the agency if their nominee is successful and the proposed methodology suggested.
A Scholarship Committee has been established and at this point in excess of 120 scholarships have been awarded.
For more information on applying, click here.
To view reports and research generated by previous scholarship recipients sorted by year in PDF Format, click here.
---
Guidelines for Writing your Report.
To assist you in writing your report, on your return from your scholarship trip, contact Jenny Davis- 0406 003765, who will provide you with a sample copy of guidelines.
---
 HISTORY OF THE ESF SCHOLARSHIP SCHEME 
The Emergency Services Foundation (ESF) is pleased to advise that the following scholarship applicants have been awarded an ESF Scholarship:
2018 AWARDEES
Jacob Riley
SES
To study nationally and in the USA how community warnings can be improved through technology to encourage protective action in emergencies.
Luke Heagerty
CFA
To visit the USA and the UK to study how incident management is undertaken in collaboration with the private sector.
Linda Jones
VICPOL
To attend the American Society of Questioned Document Examiners conference, and visit Canadian and US security agencies to study international capacity and capability to deliver critical forensic document examination.
Geoff Ranzenhofer
CFA
To visit the US and the UK to study how practical fire investigation training is conducted at international best practice sites.
2017 AWARDEES
James W Bradley
MFB
To identify knowledge,practice,policy training & engagement in relation to hoarding and how this has been applied to increase operational preparedness, response & safety for E S responders.
Carina Heppell
SES Volunteer
Identify whether people who live in different environments prepare,respond and recover differently to emergencies and why.
G.Kroezen
VICPOL
Identify & examine world's best practice in safety,training,response and investigating techniques of clandestine drug manufacturing involving Fentanyl and synthetic opiates.
Kobi Laudani
DELWP
Aboriginal Fire Management.
Sam Miletta
MFB
Tactical Consideration for Non-Law Enforcement First Responders involved in Warm Zone Operations during a Hostile Event.
Melanie Mills
EMV
Understanding the application of the FEMA model at a local level in being able to undertake the assessment process of the capability against targets to inform planning and set priorities for the future.
2016 AWARDEES
Darren Conlin
MFB
Undertake a global study tour to identify,evaluate, and assess initiatives and contribute to the development of a terrorism response capability framework for (non-law enforcement ) response agencies.
Philip Richard Hawkey
CFA
Traditional Burning Practice Implications for planned burning in Victoria.
Gavin Charles Parker
CFA
Identify the best practices for the prevention,detection and supression of fire in open cut brown coal mines,coal handling ,transport and processing including power generation facilities.
Craig Shepherd
VICPOL
Gain specialist knowledge to develop Victoria Police Remote Piloted Aircraft & Systems Unit.
James Wong
CFA
'Air systems for emergency responders'. To explore the successful implementation of self contained breathing apparatus technology and innovations,specifically targeting enhancements to emergency responder safety in irrespirable atmospheres within complex environments.
2015 AWARDEES
Jason Behan
VICPOL
Complete the Police National CBRN Centre,Coventry,United Kingdom,Multi-Agency CBRN Trainers Course.
Wendy Coombes
DEPI
Investigate best practice for use of detector dogs in emergency prevention and response bisecurity surveillance programs.
Georgina Davis
AMBVIC
Study tour which will provide AV with information and development strategies on the best practice community cardiopulmonary resuscitation (CPR)and Automated External Defibrillator (AED) education campaigns.
Reegan Keys
EMV
Investigate best practice in the way warnings & information is provided to international communities during emergencies.
Wayne Rigg
CFA
Aviation Capability to Meet an 'All Hazards,All Agency,All year' Approach to Protect Victorian Communities.
2014 AWARDEES
Faye Bendrups
SES Volunteer
Community Preparedness, Engagement & Education.
Paul Elso
CFA
Prepare ,respond & manage train incidents in Victoria.
Michelle Murphy
AMBVIC
High Performance CPR.
Duncan Worsfold
DEPI
3D's Animal Disease.
2013 AWARDEES
Kylie Abraham
VICSES Volunteer
Maximising engagement of volunteer participants in Emergency Services Training.
LFF Glenn Bosua
CFA Volunteer
Utilising Water Support Units.
Lieutenant Tony Bundock
CFA Volunteer
Investigate best practice models of building a resilient emergency and rescue service within a contracting fiscal environment.
A/SSO Michael Campbell
MFB
Investigating best practice in transferring emergency personnel and equipment to ships and strategies to combat marine fires and incidents.
Dr.Carl Gibson
CFA Volunteer
Training methods to improve decision making and safety.
Sgnt Andrew McKee
VICPOL
Identifying capability and capacity opportunities to improve the delivery and development of eLearning programs to benefit multi agency training and response at a state and national level.
OM Stephen Walls
CFA
Multi Agency Training,Education and professional development for Strategic Level Incident Managers.
All Volunteer Scholarships have been funded by the Victorian Government.
For a complete list of scholarship awardees and their research topics dating back to 1988, click the link below.
List of Scholarship Awardees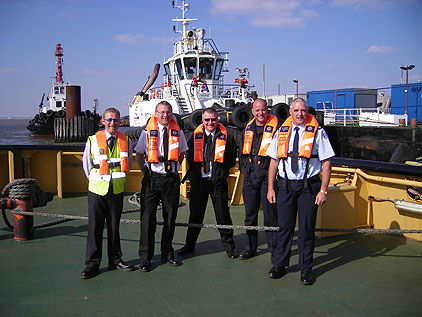 Taken at Sheppy Island in UK. This was a meeting with the UK Manager of Svitzer Tugs and Kent Fire & Rescue officers to discuss their MOU for the Tugs as emergency response appliances.