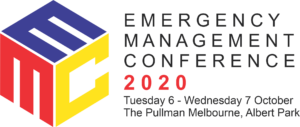 COVID-19 Update – Change of Dates
With the latest escalation in international and local responses to COVID-19 the EMC organising committee has decided to move the Emergency Management Conference to October.
Conference Chair, Mark Swiney confirmed that this year's Conference will move toTuesday 6th and Wednesday 7th October at The Pullman Albert Park, Melbourne.
"Our normal July dates were way too close to the projected peak of the pandemic and it's going to keep everyone extremely busy for months, so we've 'bought extra time' for things to settle down," said Swiney.
Registrations are open, and the Earlybird Discount is now available until 22nd May.
The Emergency Services Foundation has for 20 years hosted a popular annual conference for people working to deliver Victoria's emergency management arrangements. Organised by a multi-agency committee with assistance from High Profile Events.
The 2020 theme Evolution or Revolution will explore how, over the last 20 years, the emergency management sector has changed and ask , 'Are we satisfied with our progress or are we going around in circles?'
Find out more about the conference program here.
---
2019 EMC Conference Photos
2018 EMC Conference Photos
Volunteer Leaders Forum 2018 Photos
MFB Marine
DELWP
Air Wing
Burnley
Conference Day 1
Conference Day 2