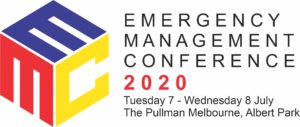 The Emergency Services Foundation has for 20 years hosted a popular annual conference for people working to deliver Victoria's emergency management arrangements. Organised by a multi-agency committee with assistance from High Profile Events, the 2020 conference will take place on 7 & 8 July at the Pullman Hotel. The conference attracts on average 400 people with an impressive line-up of international and local speakers.
The 2020 theme Evolution or Revolution will explore how, over the last 20 years, the emergency management sector has changed and ask , 'Are we satisfied with our progress or are we going around in circles?'
Find out more about the conference program here.
---
2019 EMC Conference Photos
2018 EMC Conference Photos
Volunteer Leaders Forum 2018 Photos
MFB Marine
DELWP
Air Wing
Burnley
Conference Day 1
Conference Day 2