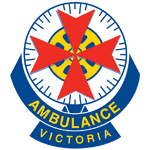 Ambulance Victoria (AV) aims to improve the health of the community by providing high quality pre-hospital care and medical transport. AV provides emergency medical response, non-emergency transport and air ambulance services to more than 6 million people in an area of more than 227,000 square kilometres. Our frontline paramedics and volunteers are highly trained and deliver exceptional patient care, responding to more than 10,000 calls a week in rain, hail or shine. Behind the scenes, others in the organisation share the commitment to providing Victorians a world-class ambulance service.
Through a Board of Directors, AV responds to the State Minister for Health. The organisation was formed with the amalgamation of the state's three former ambulance services (Metropolitan Ambulance Service, Rural Ambulance Victoria and Alexandria District Ambulance Service) on 1 July, 2008.
The AV website at www.ambulance.vic.gov.au contains information about AV and is regularly updated with the latest in statistics, developments and media releases.